Research
Report: 2 in 3 Parents Say Classroom Tech Is Key to Student Futures
Tech leaders say motivating teachers is the biggest hurdle, according to a new report.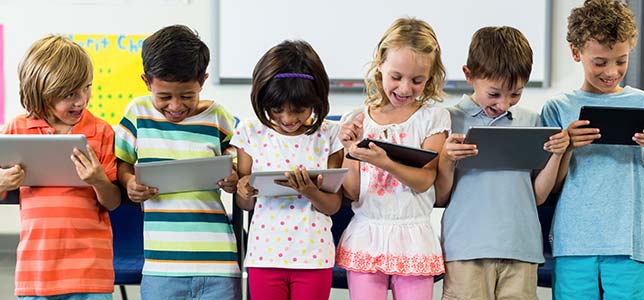 Two-thirds of parents report that effective classroom technology use provides an opportunity for their children to develop college and career skills, according to a new report from Project Tomorrow and Blackboard. Meanwhile, motivating teachers to change their instructional practices is the biggest challenge to adopting digital learning or deploying new technology, according to school and district technology leaders.
The report, "Trends in Digital Learning: Building Teachers' Capacity and Competency to Create New Learning Experiences for students," is based on a survey of more than 38,000 teachers, 29,000 parents and 4,500 administrators.
Other key findings of the report include:
68 percent of teachers in blended classrooms said that technology helps them to better differentiate instruction;
Responding teachers said they need planning time, access to technology, tech support, professional development and reliable and high quality internet connectivity to effectively integrate digital content and tools;
56 percent of parents reported that they are concerned their children will not learn the right skills in school for success in college or their careers;
Parents were most likely, at 86 percent, to say that critical thinking and problem solving are important skills for their child's future;
Other skills commonly cited by parents include the ability to work with diverse groups, creativity, teamwork and collaboration and leadership;
Technology, cited by 70 percent of parents surveyed, came in fifth;
51 percent of principals and 67 percent of technology leaders surveyed said their greatest challenge in expanding technology use or implementing digital learning is motivating teachers to change their traditional practices;
36 percent of teachers reported using online curriculum, up from 22 percent in 2013;
59 percent of teachers said they want to use digital resources that they can modify for classroom use, but librarians said that 62 percent of their teachers use digital content without modifying it at all;
Teachers use technology to support professional tasks in the classroom, though they are more likely to do so in a way that does not change classroom practice. For example, 66 percent of teachers surveyed said they have watched a video to learn how to do something, but only 33 percent reported using digital curriculum with their students;
District administrators and principals were more likely, at 71 percent and 60 percent, respectively, to say that the effective use of technology is extremely important for student success than teachers, at just 43 percent;
Teachers in blended or virtual classrooms were more likely to rate technology as important in myriad ways, from improved differentiation to better self-directed professional development to developing student creativity; and
37 percent of teachers surveyed said they had taken an online class for professional development, up from 19 percent in 2014.
"More and more education leaders realize that the sustainable success of any transformative initiative in their school is dependent upon the leadership of the teacher in the classroom," said Julie Evans, CEO of Project Tomorrow, in a prepared statement. "This report shows that digital tools, content and resources can help elevate the competencies of teachers and also provide evidence of the value technology can bring to students' learning experiences and outcomes."
The full report is available at bbbb.blackboard.com.
Joshua Bolkan is contributing editor for Campus Technology, THE Journal and STEAM Universe. He can be reached at jbolkan@gmail.com.